COMPETITIONS & ACTIVATIONS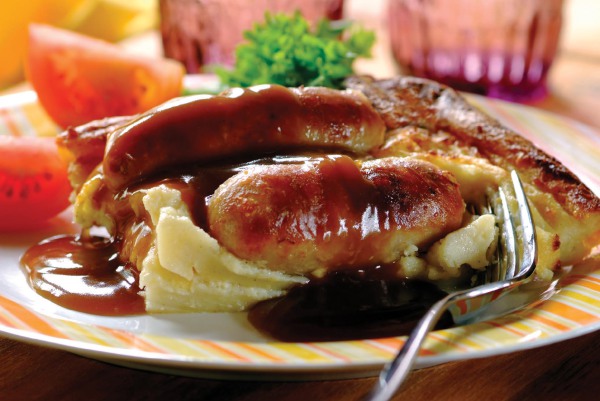 Serves: 4 - 6  Preparation Time: 10 mins    Cooking Time: 45 mins
1 egg
300ml milk
60g cake flour
1 IMANA Chicken à la King Cook-in-Sauce
1. Beat the eggs and milk together, then add the flour and IMANA Chicken à la King Cook-in-Sauce and whisk to make a smooth batter and set aside.
2. Place the sausages in a deep ovenproof baking dish. Pour over the oil and bake at 220ºC for 20 minutes.  
3. Immediately pour the batter over the piping hot sausages and return to the oven for a further 25 minutes.
4. The dish will be ready when the batter has risen around the sausages and it is golden brown.
5. Prepare the IMANA Brown Onion Gravy and serve with your delicious sausages in batter.
¼ cup (60ml) oil
600g pork sausages
1 sachet IMANA Brown Onion Gravy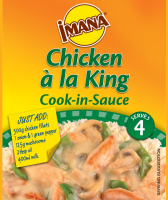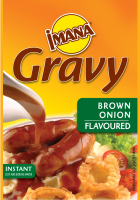 ORIENTIAL SWEET AND SOUR PORK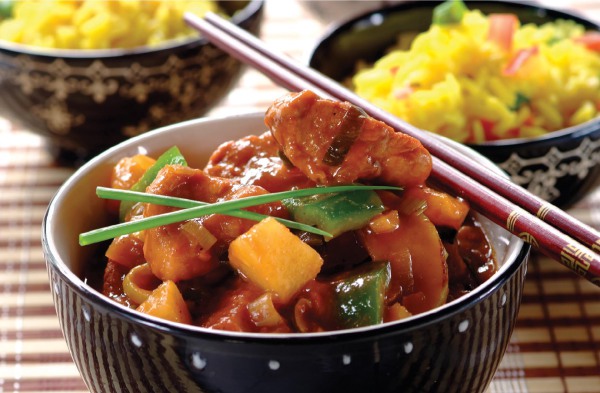 Serves: 4  - 6  Preparation Time: 15 mins    Cooking Time: 30 mins
1 small onion, finely chopped
1 leek
2 apples, cored
1 green pepper
750g pork, cubed
1 tablespoon (15ml) flour
1 tablespoon (15ml) IMANA NO.1 SOUP Chicken Flavoured
Oil to fry
1 x 410g can pineapple pieces
(retain juice for sauce)
Sauce
3 tablespoon (45ml) IMANA SUPER-SHEBA Tomato & Onion Relish Gravy Mix
1 tablespoon (15ml) IMANA NO.1 SOUP Chicken Flavoured
1 tablespoon (15ml) soy sauce
3 tablespoons (45ml) vinegar
2 tablespoons (30ml) sugar or honey
¼ cup (65ml) pineapple juice
1. Slice onion, leek, apples and green pepper.
2. Mix the flour and 1 tablespoon of IMANA NO.1 SOUP Chicken Flavoured. 
3. Toss the pork cubes in the flour and soup powder and coat well.
4.Heat oil and fry pork until lightly browned on all sides.  Lower heat and add apples, pineapple pieces, onion, leek and green pepper.  Continue cooking over a low heat for about 10 minutes.
5. Serve pork on fluffy white rice.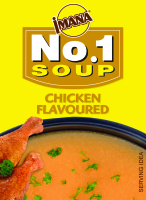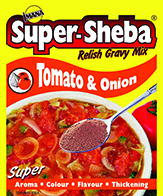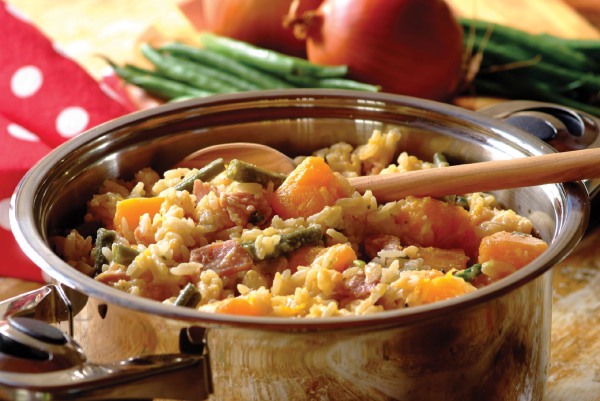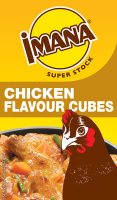 Serves: 6   Preparation Time: 10 mins    Cooking Time: 1 hour 30 mins
1 tablespoon (15ml) margarine
1 red onion, finely chopped
1 clove garlic, crushed
200g bacon, chopped
1 ½ cups (375ml) rice
2 x IMANA Chicken Super Stock Cubes dissolved in 1,25 litres of boiling water
½ butternut, peeled and chopped into 1cm cubes
200g fresh green beans, chopped into 2.5cm lengths
65ml milk
½ cup (125ml) grated cheddar cheese
65ml fresh basil, chopped (optional)
1. Melt margarine in the pot and fry the onion, garlic and chopped bacon over a medium heat until soft. Add the rice and stir until well coated.
2. Add ½ cup IMANA Chicken Super Stock Cube to the rice, stirring until absorbed. Add butternut and beans and continue adding stock by the ½ cupful stirring continuously until absorbed before adding the next cup.  This should take about 20 - 25 minutes.
3. Add the milk, cheese and basil and stir gently to combine.